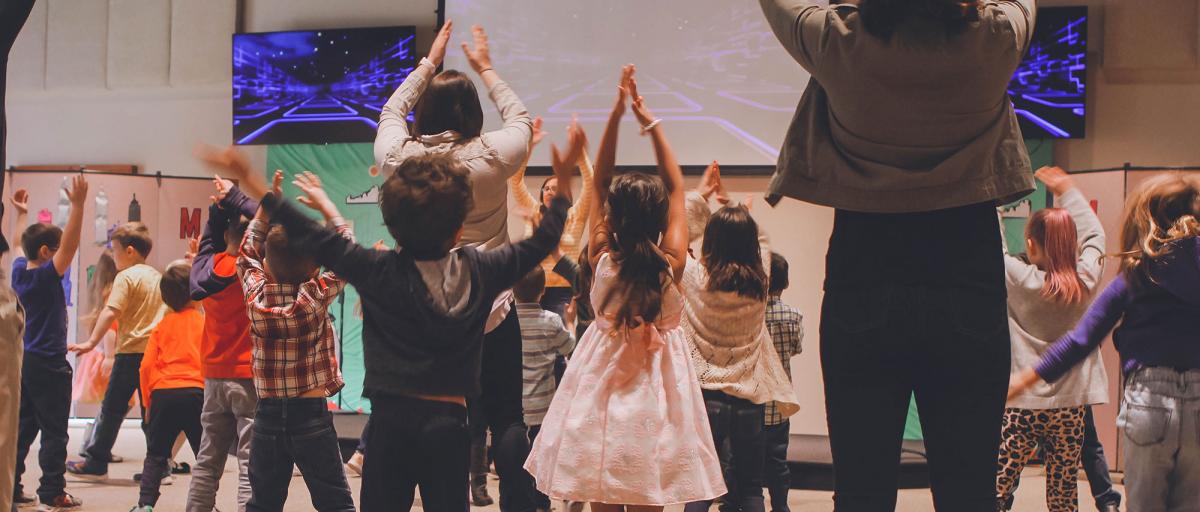 One of the most touching passages in the New Testament, is when Jesus said to His disciples, "Let the children come to Me, do not hinder them, for to such belongs the Kingdom of God…. And He took them in His arms and blessed them, laying His hands on them."
Dr. Howard Hendricks wrote an article in Evangelizing Today's Child, Sept./Oct. 1990, Don't Hinder Them. He concludes his articles with these thoughts: "There's a beautiful Scripture portion which ends with, "And Jesus took the children in His arms, put His hands on them and blessed them." Artists have vied with each other to paint that portrait. I wish I had artistic gifts because I would be in the group, too.
Dr. Hendricks goes on to say, "I have a picture in my possession that is very valuable to me. It shows Jesus in a modern garden, sitting on a chair, surrounded by children. A little boy standing beside Him is looking up into His face, trying to get His attention. There is another little kid—the little wiggle worm—dancing around beside Him. A little girl is sitting on His lap with a jet plane in her hand. Her finger is pointing to the holes in Jesus' hand, for the picture is titled, "What happened to your hand?" A sad story of contemporary society. Kids have enough food, education, everything in the world, but they don't have a clue that Jesus Christ visited our planet to bring salvation for them."
Thank you for praying for this ministry and us. Your prayers strengthen us, and propel us on to minister the love of Christ to the children. Please take a few of the praises and prayer requests and lift them up to our great God.
 
Praise God for:
The CEF Eastern Panhandle Chapter paid off the loan for their new ministry center.

The two young couples preparing to come into the CEF ministry here in WV.

His provision of ministry finances that allowed each local CEF Chapter and State office to end 2020 in the black.

The positive interview of John Camp by the CEF WV State Board, as he transitions to State Director.

The audio and video resources available to the children, sharing the good news of Jesus Christ.

The children who have made decisions to receive Jesus for salvation throughout the state.

The local committee members in WV who took the Impact the Future Committee Training.

The CEF of WV local Director's meeting via zoom went well.


 
Ask God to:
Call His choice servant-leader to be the local Director for CEF Little Kanawha Valley and North Central Chapters and provide full monthly financial support.

Use the audio and video resources CEF produces to minister the children and their families the Gospel.

Use the Committee training to help the local CEF Committees in WV to become stronger.

Continue to guide the two young couples in their fund-raising and preparation to come into CEF WV.

Help Harry Boekell as he mentors John Camp in preparing him to be the next CEF of WV State Director.

Help Harry as he mentors Jerome Coleman, local Coordinator, CEF Kanawha, to become local Director.

Lead more children to receive Jesus Christ as personal Savior throughout WV.

Give abundant wisdom to each local CEF Director recruiting, planning and preparing for Summer Ministries.

Call teenagers and college young people to serve this summer with CEF.


 
Ministry Schedule
February 7
Local Committee Meeting
CEF North Central Chapter
February 8
Meet via Zoom with
Kyle Latchaw, State Coordinator,
CEF of Ohio
February 9
Video a session for
Good News Club® Adventures
February 16, 23, March 2
Good News Club Basic Training
CEF Little Kanawha Valley Chapter
February 17
Proctor for a Missions Practicum
Via Zoom
February 25
CEF WV local Director's meeting
Via Zoom