697 Bedington Road
Martinsburg, WV 25404
Director: Randy Bradley
Phone: 304.274.0391
Website: CEFWVEP.org
Email: [email protected]
Donate to Eastern Panhandle Chapter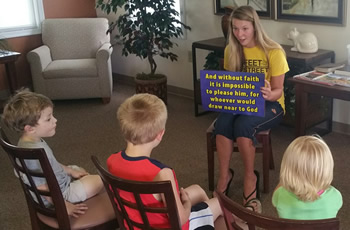 Randy and Susan Bradley are currently leading the Child Evangelism Fellowship® of WV Inc. Eastern Panhandle chapter. They are located in Martinsburg.
This year they have had seven After School Good News Clubs®, one JYC (Jesus & You Connection) and have reached 157 children with the gospel. There have been 21 children accept Jesus Christ as Savior.
Pray for them as they strive to reach the children in the Easter Panhandle.
 
Area Served
The Eastern Panhandle Chapter serves in the West Virginia counties of Berkeley, Grant, Hampshire, Hardy, Jefferson, Morgan, Mineral, and Pendleton.